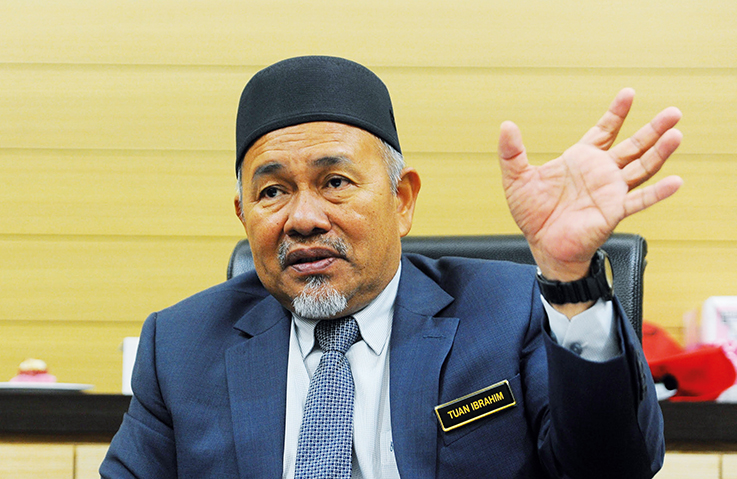 In the next 6 months, IGEM 2021's virtual platform will provide ideas and opportunities to encourage more sustainable growth
by SHAHEERA AZNAM SHAH / pic by HUSSEIN SHAHARUDDIN
THE International Greentech and Eco Products Exhibition and Conference Malaysia (IGEM 2021), which will be conducted virtually this year, is projected to generate over RM5 billion in business leads.
Environment and Water Minister Datuk Seri Tuan Ibrahim Tuan Man (picture) said leveraging the demand from the previous virtual platform, IGEM 2021 is expected to feature about 300 exhibitor booths from 50 countries with 30,000 registered visitors.
"IGEM is an ideal platform to explore business in the green energy sector as the Asean market is rapidly growing with increased participation every year from various industries, government agencies and investors showcasing their latest innovations, financial and policy interventions.
"We have seen great success at IGEM 2020, where we were able to record more than 10,000 participation from 79 countries and had brought in an estimated investment value of RM3.4 billion.
"We are expecting a bigger impact for this year's IGEM. In the next six months, IGEM 2021's virtual platform will provide ideas and opportunities for all its participants to encourage more sustainable growth," he said during the virtual launch yesterday.
The six-month event will have a monthly thematic focus such as green technology, water, climate change and environment, sustainability, green financing, energy and e-mobility.
"Each of the monthly themes will be complemented with topical events, conferences, activities and feature key industry leaders and experts to enable participants to receive the latest insights pertaining to specific sectors," Tuan Ibrahim said.
With the theme "Redefining Sustainability", Virtual IGEM 2021 will be held from July 1 to Dec 31, 2021, on www.igem.my.
Separately, the Environment and Water Ministry (KASA) has launched its Organisation Anti-Corruption Plan (OACP) 2021-2025 yesterday.
Tuan Ibrahim said the primary goal of KASA's OACP 2021-2025 is to cultivate the integrity principle in the practices within the ministry.
"The awareness of transparency, responsibility and integrity in government administration is also outlined in point 16 of the Sustainable Development Goals, which is creating a community that is safe and inclusive for development as well as giving access to justice, building effective and accountable institutions.
"The initiatives under the KASA OACP also include aspects of environmental and water management so that it fulfils the main mission of the ministry, which is to ensure the preservation of the sustainable environment.
"It is also a 'living document' that can constantly be revised from time to time to ensure that it is relevant and responds to current developments," he said.
He added that the implementation of the document has received support and full cooperation from various parties including the Malaysian Anti-Corruption Commission (MACC), Governance, Integrity and Anti-Corruption Centre, Public Complaints Bureau and Public Service Department.
The document outlines 34 action plans covering three priority areas namely financial management, governance, environmental and water management in addition to eight objectives and three strategies to prevent symptoms of corruption and abuse of power in the ministry.
The plan will be implemented until 2025 after which and will go through a series of improvements to maintain relevance against the current climate situation.
Between September 2019 and June 2021, MACC has assisted a total of 65 public and private agencies in their effort to develop the anti-corruption plan.
To date, 16 agencies have launched their respective OACP.
Source : The Malaysian Reserve