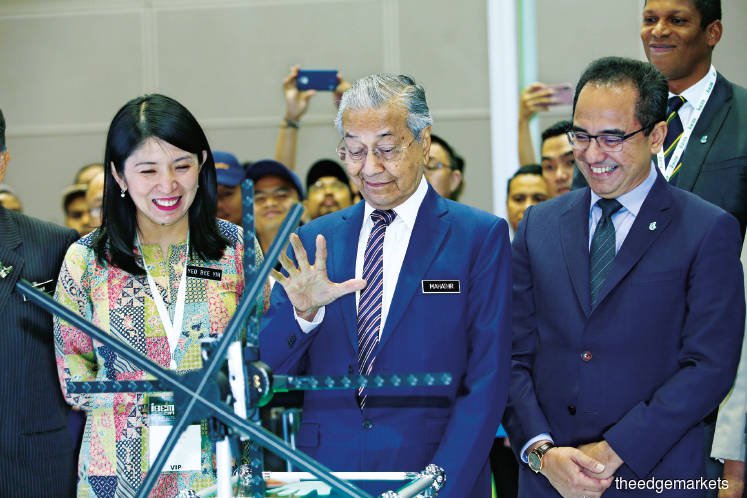 KUALA LUMPUR: The government is committed to further drive down the price of solar-based electricity generation as it works towards increasing electricity generation from renewable energy or RE.
Generation cost of solar power in the current large scale solar (LSS) bidding exercise has already fallen below the average cost of gas-generated power for the first time in history, Prime Minister Tun Dr Mahathir Mohamad shared yesterday.
"We are making good progress in this sector and we are urging the private sector to take part in the new businesses generated by the renewable energy sector," Dr Mahathir said in his opening speech on the second day of the 10th edition of the International Greentech and Eco Products Exhibition and Conference Malaysia (IGEM) yesterday.
"Malaysia is one of the biggest manufacturer and exporter of solar panels. We supply [them] to America. Our solar panels are of very good quality. So we can also increase the export of solar panels as we go along," he added.
According to Energy, Science, Technology, Environment and Climate Change Minister Yeo Bee Yin, prices offered under the bidding for the third cycle of the LSS scheme (LSS3) ranged between 17.77 sen and 23.18 sen per kilowatt-hour (kWh), which are cheaper than the gas-based power price of 23.22 sen per kWh. The LSS3 tender has since closed.
"This is exciting. Next year, we will open another round of LSS [bidding] and we will ensure it will drive down the cost further. We will also give special attention to site land and unusable land such as mining pods," she said during her opening presentation at the event.
LSS is a competitive bidding programme to drive down the levelised cost of energy for the development of LSS photovoltaic plants.
As part of the government's plan to develop the RE sector, it has set a target to have 20% RE in the electricity generation mix by 2025, as promised in the Pakatan Harapan manifesto.
Govt to set up National Council of Climate Change Action
During his speech, the prime minister also said the government will establish a National Council of Climate Change Action, as promised in the Pakatan election manifesto.
He also announced the rebranding of Malaysian Green Technology Corp to Malaysian Green Technology and Climate Change Centre, under which the new National Council of Climate Change Action will be set up.
"This move is consistent with the Pakatan government's commitment to keep the civil service lean and reduce expenditure by optimising delivery," Dr Mahathir said.
He said a national climate change centre is required to do climate-change related data collection, risk analytics, and policy coordination among different level and aspects of government, to ensure Malaysia does not only survive but thrive as the world inevitably warms in the future.
"It is important that we gear the country to be climate change resilient and ready to face the impact of climate change, such as rising sea level, disruption to food chain, healthcare and others," he said.
Source : TheEdge