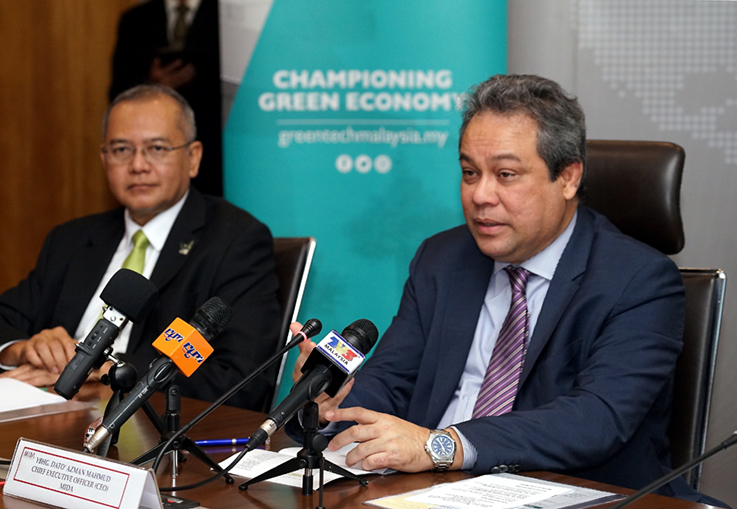 The investment leads include RM5.8b potential investments from 82 projects
by ASILA JALIL/ pic by MUHD AMIN NAHARUL
THE International Greentech and Eco Products Exhibition and Conference Malaysia (IGEM) 2019 has achieved RM5.98 billion in its investment target, surpassing its RM2.8 billion projection this year.
The investment leads include RM5.8 billion potential investments from 82 projects recorded throughout the Malaysian Investment Development Authority's (Mida) participation and RM180 million potential exports throughout the Malaysia External Trade Development Corp's (Matrade) International Sourcing Programme during IGEM 2019.
In a decade, IGEM has cumulatively generated close to RM30 billion in business leads and featured 2,720 exhibitors with 490,000 visitors from 60 countries.
"I am happy to announce that IGEM 2019 has surpassed all targets with RM5.98 billion in business leads with 376 exhibitors and 40,531 visitors from 43 countries.
"When we announced the targets for IGEM 2019, everyone said it was ambitious given the softening global economic scenario. Notwithstanding this, we pushed on to achieve and exceed this year's targets," Malaysian Green Technology Corp (GreenTech Malaysia) CEO Shamsul Bahar Mohd Nor said in Kuala Lumpur yesterday.
IGEM 2019 was organised by the Ministry of Energy, Science, Technology, Environment and Climate Change and GreenTech Malaysia.
As it rolls into its 11th consecutive year, the ministry is aiming RM3.4 billion in business leads with 420 exhibitors and 42,000 visitors from 42 countries next year.
"As we march into a new decade, we recognise that the most suitable theme for IGEM 2020 will be Energising Sustainability, as it captures Malaysia's commitment to balance socio-economic progress with the environmental concerns to ensure a secure and sustainable future for all of us," said Shamsul.
He added that the government has introduced Green Investment Tax Allowance and the Green Income Tax Exemption administered by Mida and the Green Technology Financing Scheme to encourage the growth of the renewable energy market.
The government also introduced various initiatives and programmes to create job opportunities, new sustainable products and services, as well as offer inroads into new markets with an expected RM33.25 billion in private investment and more than 100,000 job opportunities by 2025, said Shamsul.
Meanwhile, Mida CEO Datuk Azman Mahmud said the agency approved 374 green-related projects worth RM2.86 billion in the first nine months of 2019 which will create over 750 job opportunities nationwide in areas such as energy generation, energy conservation, green building and waste management.
"As of November 2019, Mida had 10 green-related projects in the pipeline with investments of RM76.2 million, subsequent to interests expressed at IGEM 2019 and we expect more applications to be received in 2020.
"This is an indication of the encouraging trend of investment leads in the areas of green technology within the country. Hence, Mida will continue to engage and participate in green projects, providing the necessary facilitation to the stakeholders," he said.
IGEM 2020 will be co-organised by GreenTech Malaysia which was recently repurposed as the Malaysian Green Technology and Climate Change Centre, with an expanded portfolio that will include strategising climate-resilience actions, leading inter-ministerial collaborations, encouraging the uptake of green technology innovations across industries and raising awareness among the general public.
Source : The Malaysian Reserve